Photo courtesy:pinterest.com
Image courtesy: Sharon Ferguson on Twitter
Do not be anxious about anything, but in every situation, by prayer and petition, with thanksgiving, present your requests to God. And the peace of God, which transcends all understanding, will guard your hearts and your minds in Christ Jesus.
Henceforth, brothers and sisters, whatever is true, whatever is noble, whatever is right, whatever is pure, whatever is lovely, whatever is admirable—if anything is excellent or praiseworthy—think about such things. Whatever you have learned or received or heard from me, or seen in me—put it into practice. And the God of peace will be with you. Philippians 4:6-9
These days we all are anxious of our tomorrow, anxious of our future because we are not sure of what the future would be like ? Our unfulfilled dreams are haunting us every moment .
We cannot work like before,our earnings have come down and above all we all are worried of our health.A normal cough or cold might turn out to be a nightmare.
What are we going to do in such circumstances?This is the question answered by almost everyone ;relatives,friends,different apps and even Google has thousands of tips to protect our lives and the lives of our beloved ones.
Despite so much of precautions people are dying every moment .Are you really scared of the daily occurrence?No ,don't be scared of a virus because you have the blood of Jesus Christ flowing through your veins.
Just present your requests to God with a contrite heart.And the peace of God,which transcends all understanding,will guard your hearts and your minds in Christ Jesus.
Thereafter your prayers will be so strong that it will be able to heal sick and ailing people. All that belongs to the evil one will remain far from you whether it's fear,disease or death.
Only the blessings of the Lord will be effective and when as an individual you become God's blessings it will work wonders.
Just like a poor man ;when he starts working hard he accumulates enough wealth and his riches become useful for all his beloved ones.
Image courtesy:www.google .com
Thanks a lot for reading.Take care
Today is the Feast Day of Vincent De Paul a great man respected for his charitable works .I am looking after the Central Council of Krishnagar with 2O parishes in the Diocese of Krishnagar.
I do not have enough to give to the poor but we are encouraging others to spend as little as half a dollar every month to support the poor,needy and ailing people.
Not too many people are interested but some are coming forward to join us in the work of charity.I am thankful to those who are adding their little contribution to make the under privileged smile .
Charity is not really for the wealthy people ,it is for those who have felt or realized the trauma of being poor or going to bed with an empty stomach.
Just then a man came up to Jesus and asked,"Teacher ,what good thing must I do to get eternal life?"
"Why do you ask me about what is good?" Jesus replied ."There is only one who is good.If you want to enter life,keep the commandments."
"Which ones?" He enquired.
Jesus replied,"You shall not murder,you shall not commit adultery,you shall not steal,you shall not give false testimony,hon our your father and mother,' and love your neighbor as yourself.'
"All these I have kept,"the young man said ."What do I still lack?"
Jesus answered "If you want to be perfect,go sell your possessions and give to the poor,and you will have treasure in heaven.Then come,follow me."
When the young man heard this,he went away sad,because he had great wealth.
Then Jesus said to his disciples,"Truly I tell you,it is hard for someone who is rich to enter the kingdom of heaven.Again I tell you ,it is easier for a camel to go through the eye of a needle than for someone who is rich to enter the kingdom of God."
The rest of the message we all know the Lord said "With man this is impossible ,but with God all things are possible."
So let's have an examination of conscience and after that if we feel that we really need to do something for the poorest of the poor then please do whatever is possible for the needy on behalf of Jesus Christ and then you will be his true friend .
You will have power over the nature,the storms,the seas,the oceans,the mighty mountains and birds of the air and wild beasts .You will be so sacred that dreaded diseases will not dare to touch you.
There is still time to find a way out to live despite the spread of pestilences.The Lord is calling everyone to get the strong power of immunity through Charity.
Thank you for reading
The characteristics of the Lord to whom we pray are ;He listens to us,he knows us well and he looks after us.
He knows all our problems because we are in touch with him.Sometimes we feel lonely and feel sad because we assume that no one is with us in our worst days but the Lord is with us.
Even King David had similar feelings so we read in Psalm 31:12 'I have been forgotten like one who is dead;I have become like a broken vessel.'
Very often we come across situations when we find no one is willing to stand beside us in our bad days.Even the people whom we trusted or we had considered as our own leave us alone. That's a miracle ,such situations drag us to the Lord and we decide to cling to him at any cost.
This teaches us a lesson that the Lord uses our so called beloved ones to behave in such a way that finally we are close to our Lord.
The Lord always thinks about his beloved ones just like a mother .A mother is not at ease so long her child is out of home.She tries to be in touch with as many people as possible to ensure that her child is safe and secure.If the child meets with an accident the mother is the first one to be at the spot with hope and courage other people may have negative thoughts of an injured person but the mother never allows a negative thought to grow in her mind about her child.
During this pandemic the Lord is controlling everything especially the well being of his beloved ones.Whenever our life boat seems to sway in the huge waves of the disturbed sea the Lord stands beside us.
The Lord is truly a loving father,that is why we find a great ,soothing message of hope 'Whether you turn to the right or to the left,your ears will hear a voice behind you saying ng,"This is the way;walk in it."
The Lord guides every step of ours because he won't be able to tolerate our failure .The interesting fact is that to have the Lord as our guide we need to be in the light ,to be in grace .The evil one cannot guide us when we are in light and similarly the Lord cannot be with us when we are in darkness.
So it all depends on us whether we need the Lord as our guide or the evil one.Allowing the Lord to be among us is certainly very advantageous because in his presence nothing would dare to harm us ,not even the deadliest disease.
It is good to remember the fact that if we don't clean our courtyard and allow wild plants,hedges and bushes to grow then there's no doubt that venomous snakes will prefer to live in such areas.
Thanks a lot for reading.
Image courtesy:pinterest.com
Courtesy:drmichellebengston.com
pinterest.com
Colgate was a tither throughout his long and successful business career.He gave not merely one-tenth of the earnings of Colgate's soap products;but he gave two-tenths,three tenths and finally five-tenths of all his income to the work of God in the world.
During the later days of his life he revealed the origin of his devotion to the idea of tithing.When he was sixteen years old he left home to find employment in New York City.
He had previously worked in a soap manufacturing shop.When he told the captain of the canal boat upon which he was traveling that he planned to make soap in New York City the man gave him this advice:
'Someone will soon be the leading shop maker in New York .You can be that person.But you must never lose sight of the fact that the soap you make has been given to you by God.Honor him by sharing what you earn.Begin by tithing all you receive .'William Colgate felt the urge to tithe because he recognized that God was the giver of all that he possessed,not only of opportunity,but even of the elements which were used in the manufacture of his products.
"Give and there will be gifts for you,a full measure,pressed down,shaken together and overflowing will be poured on your lap". Luke 6:38
Courtesy:www.pinterest.com
29 As Jesus and his disciples were leaving Jericho, a large crowd followed him. 30 Two blind men were sitting by the roadside, and when they heard that Jesus was going by, they shouted, "Lord, Son of David, have mercy on us!"
31 The crowd rebuked them and told them to be quiet, but they shouted all the louder, "Lord, Son of David, have mercy on us!"
32 Jesus stopped and called them. "What do you want me to do for you?" he asked.
33 "Lord," they answered, "we want our sight."
34 Jesus had compassion on them and touched their eyes. Immediately they received their sight and followed him. Mathew 20:29-34
It's really very interesting to find two blind persons ,they could not see anything and they had only heard of Jesus from other people yet they were so sure of Jesus' authority that they didn't pay heed to what the crowd said.
The crowd sternly ordered them to be quiet and we all know the meaning of crowd ;crowd means a gathering of many people and in our daily lives we keep our mouth shut out of our fear of the crowd.We don't dare to speak the truth because we are often worried of what the crowd would feel,say or do.
It is very strange that we haven't mastered the real art of living.Would you mind if I say that it is useless to have two large eyes if we cannot see the glory of God?
Blessed are those two blind men because they realized the real power of Jesus and that is why they were able to shout aloud saying 'Lord,have mercy on us,Son of David!' Whenever the crowd ordered them to be quiet they shouted even more loudly.
My dear friends during this pandemic more people are praying and repenting to be saved .More people are praising and worshipping the Lord but we do not know whom the Lord will ask 'What do you want me to do for you?'.Yes we have a little idea,a probability that the Lord will certainly ask such a question to a person who is not scared to praise adore and worship the Lord with all his/ her strength despite the warning of the enemies who are always trying to stop us from doing so.
So let us praise the Lord like those blind men and be sure that the Lord will stand still and call out your name ,their names or may be my name.
I am sure we are ready to spend a few minutes of our twenty four hours to praise him .Remember the fact that he is the best master on earth and heaven .He will pay you for even a minutes praise and worship.Nothing will go in vain.
Pray for all and pray for me too as I am a worst sinner.
MILK AND HONEY FAITH spiritual nourishment for your heart and home
5 ROADBLOCKS THAT CHRISTIAN BLOGGERS FACE
(This post contains affiliate links but all opinions are my own)
You've done it! You've taken that giant leap of faith and started blogging about your faith in Christ. Your blog has been established among your peers and you may have even made some connections. All of a sudden, reality sets in about how much actually goes into blogging. Everything may have started off smoothly but now you are faced with roadblocks that threaten to deter you. Don't be discouraged for you are definitely not alone. Can I just give you a hug right now and tell you that I've been there? Let's get through these issues together…null
Blog Themesby milkandhoneyfaith
Powered by Creative Market
5 Roadblocks in Christian Blogging
Spiritual Warfare – Please do not be surprised when it feels as if everything is going wrong. Our adversary HATES what you do and will try anything he can to put an end to God's work. Perhaps you are getting hit financially, medically, and emotionally. Relationships are falling apart at the seams and you have no idea why. There are spiritual forces at play here and you will do good to put on your armor and pray for strength. The devil does not play fair and he will hit you where it hurts.
"For we are not fighting against flesh-and-blood enemies, but against evil rulers and authorities of the unseen world, against mighty powers in this dark world, and against evil spirits in the heavenly places."
Ephesians 6:12 NLT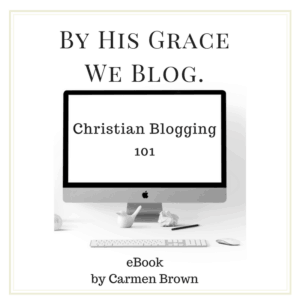 Grab Carmen Brown's eBook "By His Grace We Blog"
To encourage you on your blogging journey
Lack of Time with Jesus – There is so much to be done in the blogging world. You have content to write, there are newsletters to send, and there is social media to keep up with. It can be so tempting to put off our alone time with the Lord to squeeze something else in. The truth is that the enemy is jumping for joy when we do this. He doesn't want us to be spiritually fed and geared up for our fight. He'd rather have us relying on our fickle feelings so that we can start doubting what it is we are supposed to do. Without His word guiding us we are bound to make wrong turns. In order to know where we are headed we need Him holding our hand every step of the way.
"Your word is a lamp to guide my feet and a light for my path."
Psalms 119:105 NLT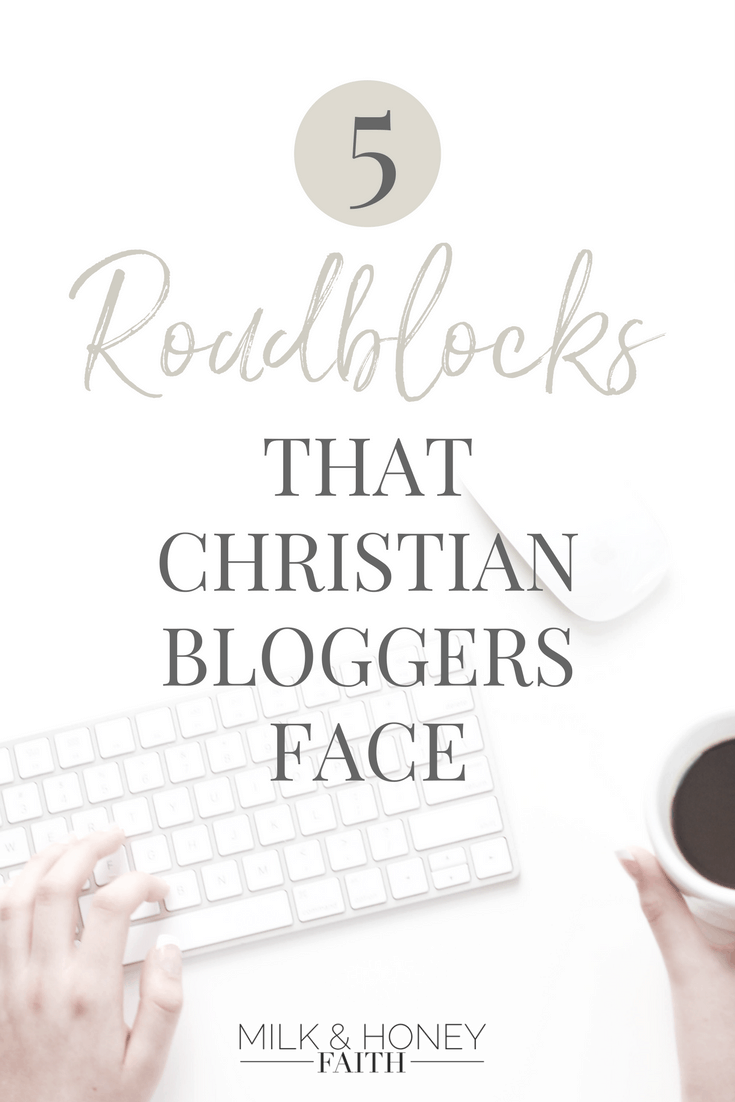 You may begin to feel like you are being bombarded with information and suddenly it feels as if there isn't enough time in the day to get everything done. Slowly but surely, you are starting to feel overwhelmed. It's easy to feel like you aren't doing enough and that you should be doing more because everything out there is saying you should jump on their bandwagon. I get it and I've fallen victim to it. The truth is that it's easy to get your priorities mixed up when you are in this state. Remember to hold onto what is true and right. God first. Family second. Let's break this down a bit…
– You should be praying on each decision that you make with your blog including which courses to take, which strategies you implement, etc. There is nothing to big or small for the Lord and He will give you the wisdom you need to make the correct choices instead of making too many all at once. You'll also be wise to pray about what you should be saying yes to so that you are not adding too much to your plate.
– Your obligations to your family should not be playing second to your blog. For example, the dishes are stacking and laundry is piling up. Your to-do list is beginning to burden you. Which choice do you make? Do you blog for an hour or do you use that hour to take care of responsibilities at home? I assure you, that if you choose blogging the overwhelming feeling will just keep piling up till there's no where to go but down.null
As you continue to make wise decisions with your time you will find that the overwhelming feeling will lessen. The Lord promises to lessen our loads so no better reason to bring everything to His feet.
"Seek the Kingdom of God above all else, and he will give you everything you need."
Luke 12:31 NLT
Dwindling Numbers – It is easy to get caught up in the numbers game and compare yourself to other bloggers who seem to be having more success than you. Please try to refrain from this type of thinking. As you see your numbers go up and down you may start to feel defeated. Maybe you're wondering why you even started blogging in the first place. This is a definite roadblock that can run you right off the road if you are not careful. It is likely that you did not start blogging so that you could focus on how popular you might become, but how you could make an impact for God's glory. Try and remember that when you become tempted to stay focused on the numbers aspect of blogging. It is better to be faithful in what you have been given. Keep going no matter what the analytics tell you.
"Pay careful attention to your own work, for then you will get the satisfaction of a job well done, and you won't need to compare yourself to anyone else."
Galatians 6:4 NLT
Unworthiness – This roadblock is last but certainly not least. I can't even tell you how many times I have questioned my calling. It makes no sense to me, and yet it makes perfect sense to God. When God gives me a mission, the enemy is there to pounce on my courage and I know I'm not alone in this. The simple truth is that Jesus doesn't call the qualified, he qualifies the called. If I let my feelings of unworthiness dictate how I lead my life then I won't get anything done.
"It is not that we think we are qualified to do anything on our own. Our qualification comes from God. He has enabled us to be ministers of his new covenant."
2 Corinthians 3:5-6 NLT
Lovely Fontsby milkandhoneyfaith
Powered by Creative Market
Breaking Through
All of these roadblocks might be threatening in nature but His word and Holy Spirit are just the detours we need to get the job done. As we learn to break through the barriers our endurance has the chance to grow. Then we will be better equipped so we won't shrink back from the next battle. We will be able to fight the good fight.
"We can rejoice, too, when we run into problems and trials, for we know that they help us develop endurance."
Romans 5:3 NLT
If you are searching for help with building your blog and establishing an online presence then I highly recommend an eBook by Carmen Brown from Married By Her Grace called "By His Grace We Blog". Carmen touches on various challenges that we face as bloggers and she gives biblical insight to help guide you through them. There isn't another book out there that I could recommend more. You can purchase yours here.
I'd also like to extend a personal invitation to anyone who is an established Christian Blogger to join Carmen and I in a private Facebook Group. You will find it's a place of encouragement and support while on your blogging journey. We only ask that you are able to provide your blog link upon request. The group called By His Grace Bloggers and you can join here.
I am looking forward to hearing from you.
Be blessed,

Image courtesy:pinterest.com